Archive for the 'Armani' Category
by Manon on septembre 04, 2023
Lili Reinhart is booked and busy these days! Our favorite actress became one of Armani Beauty new ambassadors earlier this year and is now attending their events with all the team. She arrived in Venice a few days ago and has attended three events since, including two hosted by Armani. There was the Armani Beauty dinner on September 01, the Armani 'One Night Only' event on September 02, and the Miu Miu Women's Tale dinner on September 03. Lili attended the same Miu Miu dinner last year, all the photos are here and here. You can find all the photos from this September right below, as well as a few photoshoots taken for the occasions.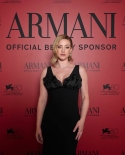 by Manon on février 13, 2023
About an hour ago, Armani Beauty announced GEN A, the new generation joining the Armani family. Eight young celebrities are part of this new generation, including Lili Reinhart along Camila Mendes, Maude Apatow, Isabela Merced, Chase Stokes, Jonathan Daviss, Lukas Gage and Michael Behling. The group also got a feature on the February issue of Bustle, and it comes with a photoshoot.
You can find the first photos of Lili Reinhart as an 'Armani Beauty' right below, as well as the complete article by Bustle. You can also watch a video of Lili Reinhart and her peers for Bustle RIGHT HERE.
Bustle — The New Class

They're starring in your favorite Netflix show (or three). They're doing game-changing work behind the scenes. You won't be forgetting them anytime soon.

Hollywood is back, baby! After two years of straight-to-streaming film releases and socially distanced premieres, the blockbuster has returned — and so has the box office. Thanks to movies like Top Gun: Maverick, Black Panther: Wakanda Forever, and Doctor Strange in the Multiverse of Madness, the box office's earnings rose 70% from the prior year, and 2023 shows no signs of slowing down. Especially with movies like Barbie, John Wick: Chapter 4, and Mission Impossible: Dead Reckoning Part One on the horizon.

But here at Bustle, it's not the films (or television shows) that we're most excited for in 2023. It's this generation's energizing, electrifying young stars who have caught our attention — and that of Armani Beauty, too. Launching today, the brand's new cohort of ambassadors represent a bold and thoughtful collective of Hollywood trailblazers. Aptly titled "Gen A," there's Maude Apatow, the breakout of Euphoria's much-lauded second season, together with Camila Mendes and Lili Reinhart, who after six seasons of Riverdale will say goodbye to their beloved characters later this year. Then there's Isabela Merced, the 21-year-old starring in the long-awaited adaptation of John Green's Turtles All The Way Down, and Lukas Gage, a fellow Euphoria star, who will premiere Down Low — the film he both co-wrote and starred in — at this year's South by Southwest festival. Finally, there's Outer Banks' fan favorites Chase Stokes and Jonathan Daviss, and All American heartthrob Michael Evans Behling.

Below, get to know more about these rising Hollywood stars.
Read More